RAIN... just memories now!
The weather leading up to race day was sunshine! A small cloud early in the week's forecast for Saturday grew larger and larger and ultimately made for a very wet 9th annual Suburban RUSH. We were discouraged at first, but soon after we thought, maybe the racers like it this way? Are the racers adventurous and crave a challenge?
The first racer in, David Mitchell with a time of 2:06:35 proved just how muddy it was. Then face after muddy face followed, but still mostly all smiling because the arduous mud filled journey was complete. They tackled the elements and finished the Suburban RUSH! As most of the organizers were at lower elevations we could only imagine how cold it was at CP4 and the navigation challenge. Reports came in afterwards that the volunteer crew up on the mountain ridge had a hard time writing bib numbers down from cold shaking hands. Such dedicated volunteers – really demonstrating the amazing commitment our team has to this event.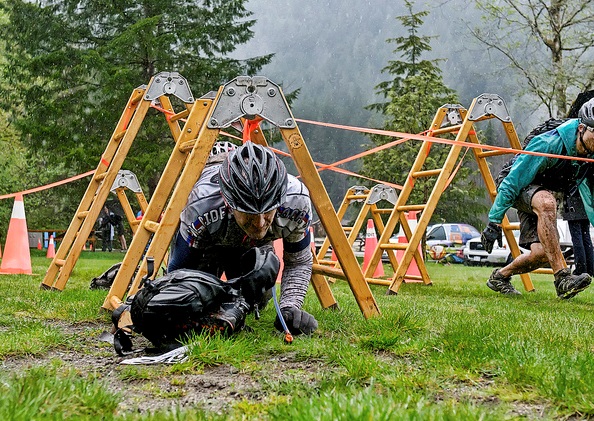 Running in parallel but not quite as muddy was our Kids Adventure Race. Almost all the kids that signed up with their parents braved the weather to introduce their child to fun recreational sport. The kids' race truly melts the heart. A memorable moment came when Co-ed Team Brady crossed the adult finish line first in their category just at the right time to join their son, already on course heading for his own finish line. They ran over and encouraged him to the finish - their family picture taken shortly after at the new Suburban RUSH photo station. We are sure this will be a photo that will be kept for years. This is what we envisioned when starting the kids race – great family memories.
All the racers tested how much perseverance they had against the elements and the distance, either route finding on foot in the forests up on Eagle Ridge, or descending on a bike via technical single track into Buntzen Lake. We've been hearing good feedback. These positive vibes keep us going for this labour of love and for the sport of adventure racing.
We'd like once again thank Aimee Dunn, Course Manager and Leanna Dunn, Event Manager for the fantastic job they have done this year in managing the event, plus the great sponsors, loyal volunteers, and all the racers that have turned Suburban RUSH into such a great community race in the lower mainland over the years. 2014 will be year 10th anniversary for us. Perhaps it will be just as muddy – either way, watch for details about a date and be ready to mark it into your calendar!
Race Feedback

Photo credits: Grant Mattice, Pam Pike, and Alexia Droz